BOOK REVIEW - Destination Moon
Author - Astronaut Jim Irwin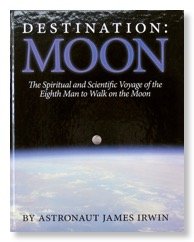 The prologue was absolutely lovely, though lengthy. Having the earth described "through God's eyes" is wondrous. The way Irwin presents the history timeline in story form is wonderful, and the way he has conversationally written his experiences make this book very readable for children of all ages. Irwin paid special attention to reflect on his thought process through his experiences, as he was experiencing them. The balance of words to photos per page is just right, the photos are beautiful and add so much to the reader experience. I especially love Irwin's description of how liftoff felt, and what speed in space "looked" like. Irwin's personal experience of this historic time is absolutely invaluable, as you will not find testimony to a spiritual experience in any traditional historical, fact based book. This book is also a great tool to use as jumping off points for studying different areas in more detail, or taking a deeper dive. It also offers a gentle and friendly way to introduce space, space travel, the moon, planets, NASA, and where we are today in space!


This book is written with great detail and really makes the author's experience come alive, and invites the reader into his memories to experience it for themselves. Irwin uses language that is easily understood, and flows from one experience to the next without offering too much information that would bog down the story he wants to tell. While the author mentions his spiritual experience of being on the moon and how it drew him closer to God, the bulk of this book is based in his actual experience as an astronaut, and a man. Irwin sites the many opportunities and blessings in disguise which were afforded to him in his journey to the Moon, and beyond. He does not dwell on the beyond part, life after returning to Earth.

Irwin provides a thorough glimpse into what kind of training an astronaut is required to obtain, presenting it in a very clear and succinct way so that it doesn't seem overwhelming. The author encourages his readers to view him and accept him as a regular guy, with struggles in school, and life in general. While his deeds are great, he recognizes that it is God who deserves the glory, and it is his goal to spread the word of God.


Pros:
Very conversational, easy to read. Beautiful photos, fact based verbiage, well balanced.
Cons:
Nothing but a mention of meeting the U.S. President, it would have been nice to have read about that experience in the same detail as blastoff and moon-walking.
Star Rating: 7
– I would highly recommend this book for any child who has an interest in space, airplanes, the armed forces, the moon, science in general.
Sydney has been homeschooling her special needs son, age 9, for the last 2 years. She loves to quilt, smile with friends, and learn new things with her Noah. They love to travel and explore, especially historic places and State Parks. So far, Hartwick Pines is their favorite. They live in Michigan, where the fall colors are spectacular!